This past year has been difficult for everyone, but that's especially true for medical workers who selflessly put their health on the line during the height of the COVID-19 pandemic to ensure the health and safety of others. National Hospital Week 2021 runs from May 9 through May 15; it's a time to thank all of the health care employees who have worked tirelessly to help us all. It also provides a platform for us to highlight the ways our metal belts continue to help support the industry behind the scenes.
Just What the Doctor Ordered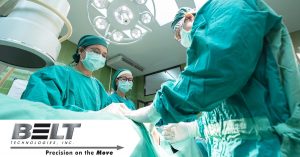 Medical equipment is held to a higher safety standard than other products—the materials used to process, handle and transport it need to be bacteria resistant and easy to clean. Additionally, surgical robotics rely on extreme precision and accuracy to perform their delicate functions. Medical manufacturers often turn to Belt Technologies because our stainless steel belts embody all of these qualities.
Our belts have:
A smooth and impermeable surface to prevent the housing of microbes or bacteria, which can thrive in other belt materials like rubber or plastic.
High resistance to corrosion, which allows the belts to be sanitized with high-pressure steam, high-pressure wash and chemical cleaning.
High heat resistance, allowing them to be thoroughly sterilized.
The ability to be designed for zero-backlash with high life cycle requirements in surgical robotics applications.
It is due to these aspects, and due to our reputation for expert support from concept to completion, that medical personnel turn to Belt in the manufacturing process for medical equipment. Our belts provide a minimal risk of contamination and maximum compliance with existing regulations.
Success Is in Our DNA
Prior to the COVID-19 pandemic, a molecular diagnostics company reached out to us to improve their production for revolutionary DNA analysis technology. The company was producing 400 disposable reaction tubes per day for DNA test kits and the need arose to produce more. The company opted for a metal belt conveyor system with both the pulleys and belts supplied from Belt Technologies. We improved their process times while simultaneously altering their configuration to allow for four separate products to be run on the same line—which led to increased output—18 million units per year—not to mention increased profits and impressive strides in the medical field.
One success led to another and the company chose us to assist in the production of COVID-19 test kits at the height of the pandemic. We were happy to do our part to supply medical professionals with the tools they need to do their jobs, and we would be happy to do the same for you. Contact us if you think we can help your company with a personalized solution. And remember to take some time this week to thank any of the health care professionals in your life.