Replacement Belts for Ishida Bagmakers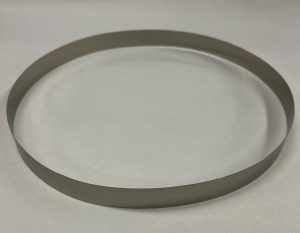 Offering High-Quality Replacement Parts for Ishida Bagmakers/Heat Sealing Machines
As an ISO 9001 certified designer and manufacturer of stainless steel metal belts and conveyor solutions, we provide high-quality replacement belts compatible with snack food bagmakers made by Ishida.
Our experienced and knowledgeable team can deliver the following parts for your Ishida bagmakers:
Ishida Part Number: Belt:Heater 200280307900 (Atlas and Apex models)

12.7 mm x 0.15 mm x 710 mm

Ishida Part Number: Belt:Heater (Long Life) 200283135900

19.05 mm x 0.127 mm x 710 mm
These parts must be replaced often—so it's best to plan ahead and have a trusted partner like Belt Technologies on hand to provide quality replacement belts when you need them. There is an estimated lead time of two weeks for these replacement Ishida belts. Both replacement belts for these food industry machines are non-Teflon coated.
High speed packaging and heat sealing machines require metal belts that are clean, durable, reliable and accurate. Our PureSteel® metal belts meet all these criteria and more, providing smooth and precise operation for any application. Explore our website to learn more about our company and products as well as the many features and benefits of our PureSteel® metal belts. Can't find exactly what you're looking for? Our experienced team can also create custom solutions for your unique application.
Order Replacement Belts Today
Please fill out the form below to order a replacement part for your Ishida bagmaker.