Friction Drive Belts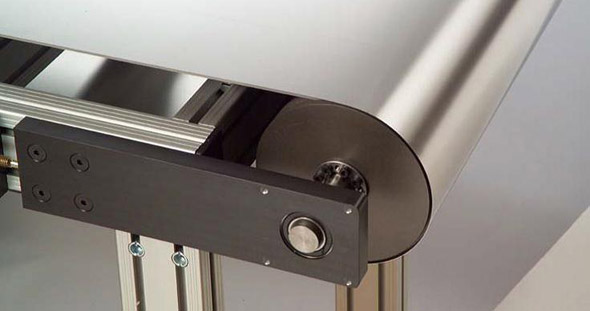 PureSteel® endless metal belts are created by welding together two ends of a metal tape to form an endless loop. High-energy beam-welding techniques, pioneered in the space program, form a high-integrity butt weld that is extremely strong and smooth. The rotation of the belt is achieved by tensioning it around two or more pulleys, such that the surface friction between belt and pulley is sufficient for the drive pulley to transfer its torque efficiently to the belt. Friction belts are the simplest, lowest cost solution in applications requiring relatively lower precision, such as:
Conveying
Heat sealing
Casting
Imaging
Metrak© – Accurate Tracking
A Metrak© belt employs a V belt bonded to the inner circumference of the metal belt. This two-element belt, which Belt Technologies calls Metrak©, distributes tracking stresses on the V belt rather than on the metal belt, thus maximizing belt life in a forced tracking system.
There are many additional methods to aid in improved tracking. For more information, visit our Solutions Page.
Where timing and exact positioning are more critical, a PureSteel® Timing Belt should be considered.