Metal Belt Conveyor Systems
PureSteel®metal belt conveyor systems have unique benefits that make them superior to conventional systems. Allowing for highly accurate and repeatable results, at improved speeds and throughputs, they are the preferred solution in a wide range of automated manufacturing applications such as robotics, food processing, solar panel production and more. In addition, they are helpful in countless manufacturing and production facilities, helping accomplish tasks like material handling, product processing and order fulfillment.
Custom-Designed Conveyor Systems Afford Versatility
Our experienced engineers will collaborate with you on an application-specific endless loop metal belt conveyor system design that is easy to install and maintain, and will meet and exceed your production needs. Whether it is your goal to upgrade an existing system or to incorporate a new, easy-to-use one, we can deliver—complete with motion control, tracking and tensioning capabilities.
Get the Unique Benefits of Metal Belt Conveyors
PureSteel®metal conveyor belts afford the following benefits. They are:
Manufactured with high-precision tolerances generally unattainable with other belt materials
Virtually unstretchable
Easy to clean and sanitize for food processing, and will not generate particulate for clean room environments, electronics or pharmaceutical manufacturing
In addition, they afford:
An extremely high strength-to-weight ratio
A high tolerance of high/low temperatures or chemical environments
No chordal action, which allows for precise indexing
Metal belts offer a long list of benefits. View them here.
Need More Information?
Contact the experts at Belt Technologies for easy-to-install and complete PureSteel®metal belt conveyor systems. Through our intake conversation, we'll be able to suggest a system with the specs you require. From a simple design to special engineering solutions, Belt can deliver to meet your needs.
What can metal belts do for your automation system?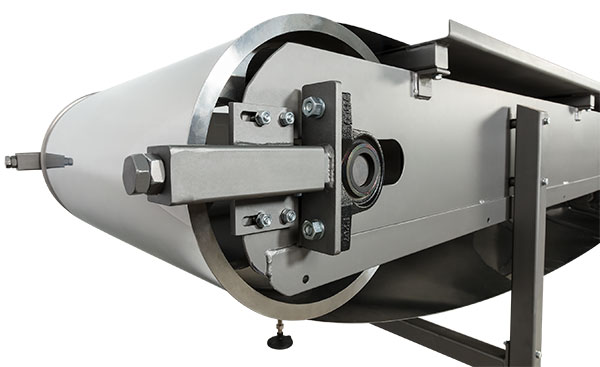 Gator Automation Conveyor Systems
PureSteelz® Conveyor Systems
Our PureSteel® conveyor systems provide accurate, repeatable results and maximum product throughput. Made of the highest quality materials, our conveyors are designed to have a small footprint and can easily be configured to fit into virtually any shop space. Our team can provide engineering support to ensure your new conveyor system is customized and tailored to your exact specifications. Vacuum belts with infinite perforation options, surface coatings, and varying material options are available.
Learn more about how Gator Automation can benefit your automated application.