Metal Belts and Drive Tapes for Electronics Manufacturing Applications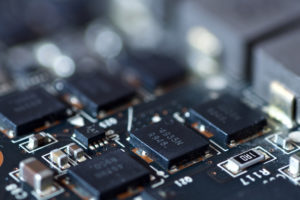 Belt Technologies is able to design and produce a variety of stainless steel components for electronics manufacturing equipment including metal timing belts, tape casting belts, drive tapes and more.

Stainless Steel Belts Are Repeatable, Accurate and Clean
Stainless steel belts and drive tapes excel at delivering precise, repeatable accuracy to ensure efficient product throughput with minimal downtime for maintenance and cleaning. Our metal drive tapes are able to perform with near-zero backlash, allowing for optimal positioning accuracy and precise robotic movement for the maximum lifespan of the device.
Metal belts by Belt Technologies are able to operate effectively in production environments that may require cleanroom or vacuum conditions to prevent contamination of the delicate electronics being produced. They are also highly durable and will not generate debris or particulates that could damage components in production. Due to their high thermal conductivity, metal belts are ideal for operations requiring high temperatures, such as tape-casting.
Electronics Product Manufacturing
Capacitors

Inductors

Relays

Sensors

Actuators

Connectors

Cable Assemblies
In some applications, carbon steel belts can provide the surface hardness and flatness required, however, any moisture in the operating environment can trigger an oxidation reaction that can lead to corrosion. In contrast, stainless steel belts do not rust, and unlike fabric or rubber conveyor belts, stainless steel will not generate static electricity. 
Versatile Customization Options for Any Application
Belt Technologies is able to provide a variety of customization services that will ensure your conveyor system is fully optimized for your electronics manufacturing application. We are able to offer custom attachments, perforation patterns, surface coatings and treatments that can maximize efficiency and product quality. 
If you need more information about metal belts, timing belts, drive tapes and more for electronics manufacturing applications, contact the experts at Belt Technologies, today. 
What can metal belts do for your automation system?