Metal Belts for Solar Panel Production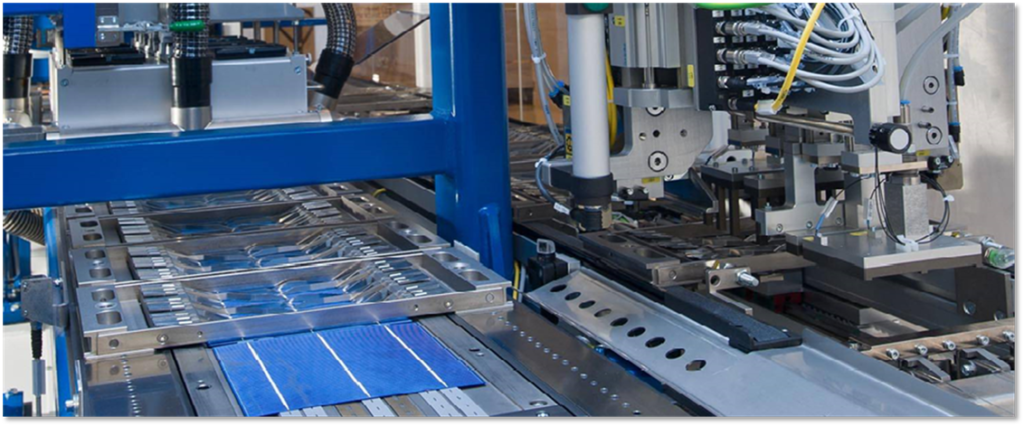 Achieve Positional Accuracy
Over the past decade, there has been an increased interest in renewable energy solutions, and a terrific upswing in technological innovation and the demand for more efficient and reliable ways to produce photovoltaic products including pv solar cells.
These innovations have introduced a particular set of problems for manufacturers trying to automate the production of solar panels and solar equipment. While plastic and fabric belts have continuously failed to meet the industry's unique demands, stainless steel conveyor belts have become the optimal choice when designing solar panel tabber and stringer equipment.
Stainless Steel Is Resistant to Extreme Temperatures
Solar panels are produced by welding individual cells together using blasts of hot air up to 390°C (734°F). While other conveyor materials will warp or melt at these temperatures, the high thermal expansion coefficient of stainless steel enables it to maintain consistency, shape and functionality, ensuring positional accuracy.
We offer a variety of stainless steel alloys with varying degrees of thermal resistance; this means our engineers can design the perfect stainless steel belt for your application, including additional coatings and surface treatments.
Perforations for Reliable Vacuum Transportation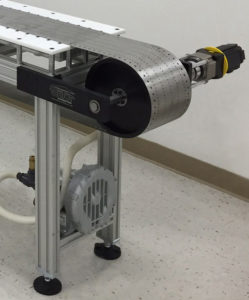 Vacuum conveyors are often incorporated into the production process of solar panels. Our customers often benefit from our custom perforated PureSteel® belts that work in tandem with vacuum systems to deliver smooth and precise movements. Our perforation methods are so precise, in fact, that we can achieve a welding accuracy of 0.025 mm or better in both the lateral and horizontal planes.
Clean, Accurate Conveyor Systems Built to Last
PureSteel® stainless steel conveyor belts offer cost savings to manufacturers by reducing the number of necessary belt changes—less downtime makes for predictable, consistent output. Additionally, metal belts are clean to operate, do not require lubrication, minimize debris buildup and do not generate particulates that can damage sensitive solar cells. Ready to learn more? Contact the experts at Belt Technologies, Inc., today.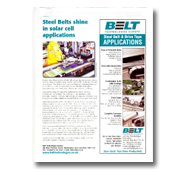 Steel Belts Shine in Solar Cell Applications
We're pleased to offer you the opportunity to download our Solar Advert, Steel Belts Shine in Solar Cell Applications, in PDF format. (Adobe Acrobat Reader is required, high-speed internet connection recommended).
What can metal belts do for your solar panel production system?