A producer of solar cells recently approached Belt Technologies seeking an innovative engineering design for a new solar stringer machine. Solar stringer machines are used to solder solar cells into modules, which then become part of larger solar panels for applications such as installation on rooftops, roadways, and more. Typically, these machines are designed with multiple narrow belts that convey the solar cells being welded. This multi-belt design limits the size of the modules the machine is able to produce. The customer was seeking a more versatile design that would be able to accommodate solar cell modules of varying configurations.
A Wider Belt Design Accommodates Busbars of Various Sizes for Flexible Production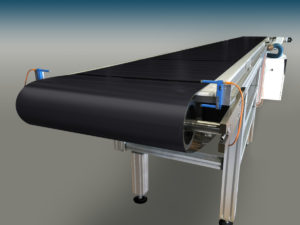 The most common design for this type of machine uses several narrow belts to transport individual busbars. Typical solar cell modules include three busbars. Solar stringer machines are designed with three narrow, coated belts to transport the busbars. However, as solar technology has evolved, cell designs have begun to include up to four or five busbars; the customer wanted a solar stringer machine that could produce solar modules with the full range of busbar configurations. Our engineers took on the challenge and designed a wide, metal conveyor belt that made the machine more flexible and better able to accommodate varying numbers of busbars.
Low-Expansion Stainless Steel Easily Withstands High Soldering Temperatures
Solar cell producers weld cells together by blasting hot air over the weld at a temperature of 390°C (734°F). To make sure the belt could withstand the high temperatures necessary to solder the solar cells in place, Belt engineers selected stainless steel alloy 17CH900—a special, low-expansion grade metal. Extreme temperature changes can cause other belts to expand, contract, and become uneven; the 17CH900 low-expansion alloy can better withstand these shifts. This is particularly important, as uneven expansion can complicate belt tracking and shorten the lifespan of a conveyor belt.
Specialized Design Features and GATORCOAT® Ensure Ease of Operation
In addition to the low-expansion stainless steel alloy, engineers utilized Belt Technologies' GATORCOAT® coating, a proprietary surface treatment which demonstrates superior release qualities following exposure to the high temperatures of the welding process. GATORCOAT® has ten times the friction resistance of other Teflon coatings and will help ensure that the solar cells are transported quickly and smoothly.
Vacuum perforations were also included in the belt design. Combined with the low friction of the GATORCOAT® coating, these perforations allow for gentle, high-speed transportation and automation of the cell welding process.
The belt was delivered and installed successfully. The customer is tremendously satisfied with the results and has acknowledged that Belt engineers have provided better technical input and advice than local competitors.
Looking for an innovative automation solution to keep your production line ahead of the competition? Contact Belt Technologies today!