Surface Treatments for Metal Belts
Surface treatments give engineers the opportunity to alter the natural surface properties of a metal belt, tape, or pulley. Surface treatments may be applied to one or both surfaces of a belt, tape, or pulley. Application methods include coating, plating laminating, and bonding.
Depending on the method selected, the thickness of a surface may be as little as .0005". The surface can be uniform or, to provide pockets on the belt surface for transporting small components, punched or die cut. Vacuum holes can be combined with pockets for more positive orientation and retention of delicate parts during the transportation process.
Surface Treatment Options
SILICONE:
When the environment is not suitable for other coatings, silicone may be a good option. Silicone has unique properties including a high-friction surface, release properties, the ability to withstand elevated temperatures, and extreme flexibility. Bonding silicone to metal belts can be difficult, but workable solutions do exist.
GATORCOAT®:
FDA-compliant GATORCOAT® coating is high-release and extremely wear resistant. Its unique, three-coat system of internally reinforced metallic material has a high-cure, nonstick surface that is over ten times more abrasion-resistant than Teflon. It is household-chemical resistant and features nonstick properties, stain resistance, and performance at high temperatures. It is different from all other nonstick coatings in that the base coat contains a carefully chosen and blended combination of resins.
TEFLON®:
Long ago, Teflon became a household term for nonstick cookware coating. Teflon is actually available in a variety of formulations, each having distinct operating characteristics, including release properties, lubricity, abrasion resistance, temperature range, and color.
HARD COAT ANODIZATION:
Hard coat anodization is an electrochemical process used to increase the hardness, wear characteristics, and corrosion resistance properties of aluminum pulleys. The process forms an integral part of the metal that both penetrates and coats all pulley surfaces. The coating thickness is uniform and mirrors the precision of the pulley itself.
URETHANE OR NEOPRENE:
Both urethane and open- or closed-cell neoprene change the friction surface coefficient of a metal belt and act as nests for delicate parts. These coatings are securely bonded to the metal belt. Prior to bonding, they can be die cut when a specific pocket geometry is important.
Surface Treatment Characteristics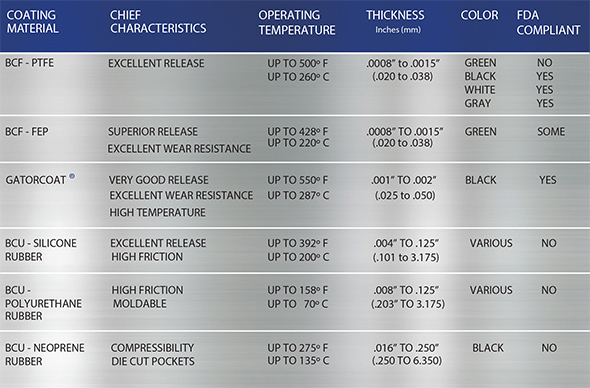 The range of options for surface treatment is so vast that it cannot be fully documented in this guide. Unusual surface treatments have included fluorocarbon compounds, copper cladding, gold plating, and powdered diamond bonding. Appropriate specifications will be a function of application and technology.
The Belt Technologies engineering staff will be pleased to discuss opportunities related to your specific needs.
Interested in learning more about specialty coatings and surface treatment options?