Belt Technologies has the ability to produce endless, stainless steel metal conveyor belts for use in vacuum suction conveyor systems with sophisticated methods of perforation. Perforations in the belt allow air to be drawn through the vacuum plenum of the conveyor; creating the suction that holds product materials in place.
Applications for Perforated Metal Belt Vacuum Conveyors
Vacuum conveyor belts can be found in a variety of industries, including those used in solar panel production, printing facilities, and clean room environments. Conveyor systems where changes in elevation may affect product placement  can employ vacuum belts to hold light parts in place. They can even be used in situations where parts are conveyed upside down.
The engineers at Belt Technologies are able to design perforated metal conveyor belts for use in vacuum conveyor systems based on customer specifications and product requirements. Our team also has the knowledge and experience to provide design feedback to ensure that the perforated metal belts will achieve highly precise positioning and repeatability.
Precision Perforation Methods
Poor perforation methods and design can damage the structural integrity of metal conveyor belts. This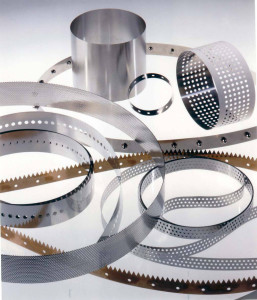 shortens the lifespan of the belts and costs manufacturers time and money in product volume loss each time the belts have to be replaced.
We have a number of perforation methods available; two of the most common are laser cutting and chemical etching. Our engineers choose the most practical method of perforation for each project based on pattern considerations and belt dimensions. Belt Technologies has the knowledge and experience to perforate very thin metal belts (down to 0.002") and very narrow belts (down to 0.125") as well as thick belts (up to 0.031") and wide belts (up to 36"). Our varied perforation methods give Belt Technologies the capability to produce a wide range of hole diameters and patterns. These methods offer a very accurate perforation with no burr.
Perforation Pattern Design Considerations
Belt engineers will work with customers to create a perforation pattern with the right configuration, diameter and pitch. Once they determine the right configuration and dimensions of the perforations, the engineers can calculate the suction required to keep the specific product to be conveyed placed within the required tolerances in the most efficient and technically feasible way.
Our engineers typically recommend that no more than 30% of the belt surface be open area. By designing perforated belts without weakening the material by minimizing the number of perforations necessary for the operation, we are able to achieve the maximum lifespan of all our perforated metal conveyor belts.
Do you have a conveyor system that requires vacuum suction to transport a product? Call the engineers at Belt Technologies and let the experts help design and fabricate a perforated metal conveyor belt that will last!