Perforated Metal Conveyor Belts Are Ideal for Automated Food Production
The unique properties of metal conveyor belts make them ideal for the food processing industry. Their versatility makes them easily adaptable to any number of food industry production processes. Unlike conventional belt materials, stainless steel metal belts do not outgas; this means they have no adverse effect on product flavor. Metal conveyor belts do not require lubrication or generate particulates that would otherwise jeopardize edible product quality. They are also resistant to corrosion and can be easily sanitized—either chemically or with intense steam.
The most beneficial quality of stainless steel conveyor belts in the food industry is their resistance to extreme temperatures, which makes them ideal for food production processes that require the cooking or freezing of raw product. Their ability to easily conduct energy in the form of heat means food is cooked thoroughly and evenly. With metal belt conveyor systems, automated food processing facilities can achieve maximum production speed and accuracy without sacrificing safety or flavor.
Manufacturing Issues Cause Delays in Automated Cooking Processes
A producer of prepackaged frozen pizzas recently contacted Belt Technologies with a problem. They had been using an automated cooking process with metal conveyor belts from Belt Technologies. The belts were fabricated at our facilities and then sent to a machine builder, chosen by the client. The third-party machine shop perforated the belts and then installed them into the larger, pizza-producing system.

The belts were welded by Belt Technologies at a 75-degree angle for extra strength. The perforations added by the machine builder were made along the edge of the belt at a diameter of 3.1mm and a pitch of 51mm. Once completed and installed, the belts were used to transport pizzas through the cooking process, where they were subjected to high temperatures of 240 degrees Celsius.
Unfortunately, the belts were cupping along their entire length and failing at the weld joints. The client came to the experts at Belt Technologies to ask: What could be causing this?
Proper Perforation Techniques Make the All the Difference
Our engineers were able to resolve both the warping issues and the failures at the weld joints. They found that the damage was being caused by incorrect perforation techniques used by the third-party machine-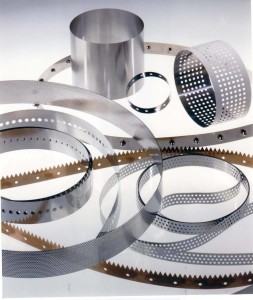 building shop.
Many mechanized perforation techniques—like those used by the outside machine shop—are high-impact and can cause unnecessary stress to the belt. When using these techniques, a series of particular, precise measures must be taken to prevent the belt from "sticking out" or cracking along the perforations. In instances where this outcome is likely, Belt Technologies uses a variety of proprietary perforation methods that include mechanized, as well as chemical etching and laser technology. These latter approaches rely on intense heat or a chemical reaction to make each perforation; this helps preserve the integrity of the belt.
At Belt Technologies, we advocate using the right fabrication techniques and materials for each application. This is why each metal belt conveyor system we design is custom-made specifically for your application. Call or request a quote today!