Gator Automation Conveyor Systems
The engineers at Belt Technologies, Inc. are able to design and produce complete metal belt conveyor systems for virtually any automation application. Our Gator Automation conveyor systems are superior to other automated conveyor options, due to their small footprint and high quality components and materials. Combined with our extensive knowledge and experience, Gator Automation conveyor systems will provide accurate, repeatable results and maximum product throughput.
Sleek, Resilient Conveyor System Design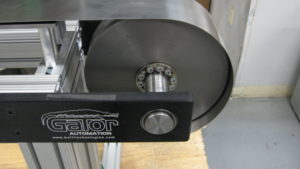 Our complete, Gator Automation metal belt conveyor systems are rugged, resilient, and easy to install. They have small footprints and can easily be configured to fit within virtually any shop space. Made of high-quality materials, like stainless steel for the belts, extruded aluminum for the frames, and a series of composite materials and alloys for the pulleys, all Gator Automation conveyor belt systems have a high strength-to-weight ratio, high temperature resistance, and high durability. They do not require lubrication and do not generate particulates, making them easy to clean and maintain. They can be applied to virtually any automation application, including food processing, solar panel production, clean room environments, and more.
Easily Customize Conveyor Systems with a Wide Variety of Features
The team at Belt Technologies, Inc. has the ability to customize your conveyor system to suit your needs. Conveyor systems can include a range of custom options:
Framework
The framework for each Gator Automation metal conveyor belt system is customized to meet the needs of the specific application. Frames are comprised of extruded aluminum in most cases, however alternative metals may be used as required, such as stainless steel frames for use in food processing applications. They are simple to assemble and can easily be configured to fit within your production space. Each conveyor system is designed for ease of access to better streamline cleaning, saving you time and money in the long term.
Pulleys
There are three pulley types available: Standard friction drive pulleys; custom-designed timing pulleys; or the independent steerable pulley, which is only available from Belt Technologies. Determining the proper ratio between pulley diameter and belt thickness is essential to ensuring the maximum lifespan of a metal conveyor belt.
Metal Conveyor Belts
Stainless steel conveyor belts have unique properties that make them superior to other conveyor belt material options. They are highly resilient, do not require lubrication, and are very resistant to temperature extremes. Belt Technologies, Inc. can produce custom metal conveyor belts in a wide variety of stainless steel grades and configurations.
Coatings and Surface Treatments
Sometimes an automation application requires a special coating or surface treatment to fully optimize the performance of the metal conveyor belt. Custom coatings, such as our exclusive GATORCOAT®, can provide additional properties like improved heat resistance, a nonstick surface, and additional wear resistance.
Vacuum Options
Stainless steel conveyor belts can be perforated through a variety of methods that make it easy to produce virtually any perforation pattern required. Used in conjunction with vacuum plenums, a perforated metal belt is ideal for handling delicate products, moving product through drying or curing chambers, and more.
Full Integration of Your Unique Design Elements
Our engineers are fully capable of working with customer designs, original components, and unique specifications to ensure you get exactly the automated conveyor system you need. The Belt Technologies team will work with your engineering and design specialists to ensure your specifications are met and your original components are seamlessly integrated.
What can metal belts do for your automation system?