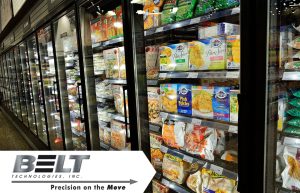 Walk down the frozen food aisle at any supermarket, and you're sure to see a wide variety of options, from prepackaged pizzas, to individually wrapped burritos and even bags of vegetables. Without a doubt, heating up frozen food is much more convenient and less time-consuming for the average person than prepping and cooking a homemade meal. But there are also many hygiene and safety considerations during the production process before this food makes it to your plate. March is National Frozen Food Month, and in celebration, we're highlighting the many ways in which our PureSteel® stainless steel metal belts are key in the safe production of these preserved provisions.
Challenges of Frozen Food Production
Consumers are increasingly embracing frozen food. In fact, according to a 2021 report released by the American Frozen Food Institute and the Food Industry Association, frozen foods brought in $65.1 billion in retail sales in 2020, which was a 21 percent increase compared to the previous year.
While the frozen food industry is changing, the challenges of the food production process have mostly stayed the same. According to an article featured in Food Manufacturing, an industry news website, keeping frozen food safe and following hygiene requirements can be a challenge. Temperatures during the freezing process range from anywhere between 25 degrees Celsius and -30 degrees Celsius, so equipment must be able to withstand extreme temperatures. Manufacturing equipment must be cleaned regularly, according to the article; however, some protective paint coatings on parts can deteriorate under corrosive washing conditions, allowing for potential contamination.
PureSteel® as a Sanitary Alternative
When using conveyor automation technologies, companies involved in food production, have found that stainless steel conveyor belts aid in the cooking, freezing and handling of edible products. Our durable PureSteel® stainless steel metal belts are widely used as part of sanitary food processing conveyors.
Compared to HTD or flat neoprene belts, PureSteel® metal belts do not generate particulate, which is ideal for food processing. Our belts can also withstand sustained exposure to extreme temperatures, making them perfect for frozen food manufacturing. And since a PureSteel® metal belt is a single element, it does not generate friction that requires lubrication, which helps to keep conveyor systems clean. Stainless steel metal belts are also resistant to corrosion and can be easily sanitized, either chemically or with intense steam.
Implement PureSteel® In Your Food Processing Operations
Would your frozen food processing operations benefit from the unique attributes of our PureSteel® stainless steel metal belts? Our highly trained and experienced engineers can design, develop and manufacture a complete stainless steel metal belt system to serve your needs. Reach out to us today if you have any questions or if you think your facility could benefit from our products.