Coatings and surface treatment applications can enhance conveyor system functionality and performance by altering the surface properties of the conveyor belt.
There are many options for coating and surface treatments, including GATORCOATⓇ, neoprene rubber, and hard coat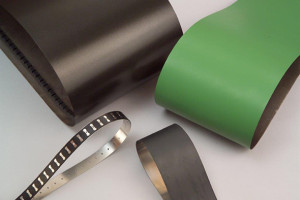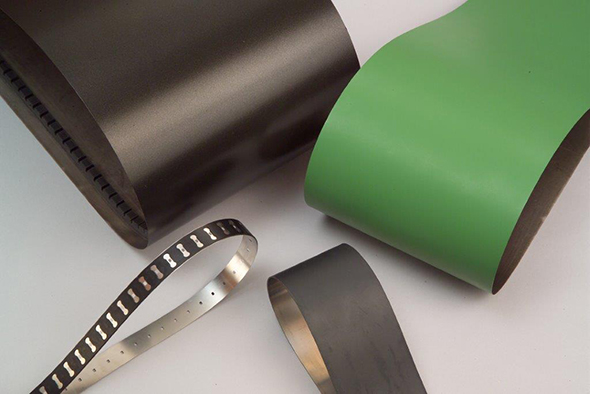 anodization.  Each surface treatment and coating option exhibits unique characteristics, including thermal resistance, impact and abrasion resistance, nonstick release, and FDA approval for use in food processing and pharmaceutical applications.
Unique custom coatings can also be developed upon request, which have included copper cladding, gold plating, and diamond bonding. Belt Technologies engineers are able to provide feedback and guidance when choosing the best surface treatment for your conveyor system.
Surface Treatments for Conveyors in Hostile Environments
Stainless steel alloys have high tolerance for heat, cold, and chemical corrosion, and can further benefit from coatings which are applied to the metal belt surface. These coatings must also operate in hostile environments as they are exposed to extreme temperatures and corrosive chemicals used in product processing.
In instances where operating conditions present a highly demanding environment, selecting an appropriate surface treatment can increase service life. Inversely, coatings specified without consideration to the operating environment and application risk premature degradation, causing a decline in performance and likely necessitating early replacement.
Proper Release Ensures Product Quality and Minimizes Downtime
Surface treatments can also be applied to support optimal product quality and throughput. Coatings such as silicone, urethane, and neoprene rubber are securely bonded to a belt to alter the friction coefficient. These materials—neoprene rubber in particular—are compressible; making it possible to die-cut pockets in the belt in order to safely nest and transport materials.
In heated applications such as food preparation or plastic extrusion, product can unintentionally bind to an untreated surface. This results in product loss and maintenance downtime. Coatings like Teflon and GATORCOATⓇ offer superior release qualities by providing a heat-resistant, nonstick surface that smoothly releases products without risking material damage or loss.
FDA Approved, Nonstick GATORCOATⓇ Outlasts Teflon
Of the many coating and surface treatment options Belt Technologies offers, one of the most resilient and popular coating options is GATORCOATⓇ—a proprietary three-layer system of internally reinforced metallic material with a high-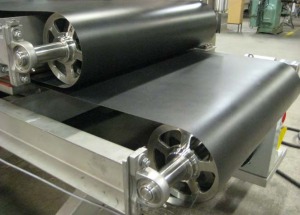 cure, nonstick surface and up to ten times the abrasion resistance of Teflon. GATORCOATⓇ is approved for food processing applications and is well suited to other high-temperature applications such as solar panel production or sterilization. It is resistant to household chemicals and has the ability to withstand temperatures as high as 600°F (316°C).
The durability of GATORCOATⓇ has been shown to maintain its integrity in many demanding applications.  A North
American solar panel producer that previously replaced their conveyor belts every three months due to damaged coating reported that replacement belts treated with GATORCOATⓇ have consistently resisted damage for more than a year. The abrasion-resistant GATORCOATⓇ outlasted any previous treatment, resulting in fewer belt changes and reduced maintenance requirements.
How will your conveyor system benefit from the advantages of a surface treatment like GATORCOATⓇ? Contact our engineers today to learn more about all our coating and surface treatment options.