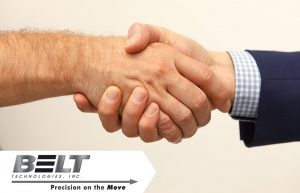 Hello, we're Belt Technologies; how can we help you? July 15 is Get to Know Your Customers Day, a quarterly observance held in January, April, July and October—but we like to know our customers every day of the year, understanding and exceeding your expectations on each individual project. In this blog, we're highlighting how we've done just that for a few of our previous customers.
Understanding Needs
Our team will always go above and beyond to understand and ensure your needs are met, providing solutions for the problems you face. For example, a U.S. medical manufacturer creating DNA test kits required exponentially improved productivity with reduced operating costs. Our engineers put their heads together and created a belt that could run four separate products on the same line, increasing profits and helping propel the medical industry forward. After that success, the company turned to us to assist in the production of COVID-19 testing kits during the height of the pandemic.
Building Relationships One Belt at a Time
We also understand the importance of building relationships, which drives our dedication to provide exemplary, personalized service to our individual customers. We were recently contacted by a group of students at California State University Long Beach for help with a project in their Senior Design class. The students were creating a hand-crank tamale maker and were in need of a sanitary conveyor solution. Recognizing their entrepreneurial spirit, we helped them with the design of a perforated endless belt.
Customizing Solutions
If you have a problem, we have a customized solution. Recently, we worked with a client attempting to move their projects toward commercialization in the robotics field. They required a system that could lift and rotate very heavy loads, which they needed to achieve in a way that would not change the diameter size of their pulley. They turned to us for a custom solution, and we gave them one: a multilayered belt that allowed for much higher torque than a traditional belt with a pulley of the same size.
Discover How We Can Help You
So, as a potential customer, we want to know: how can we help you? Contact us today, so we can get to know you, your operation and your goals—and start planning and providing the solutions you need.