Our engineers have over 50 years of experience in designing, manufacturing, and installing endless metal belt conveyor systems. While every one of our customers and every one of our projects is unique, there are some common factors that affect every metal belt conveyor system design. Our team put together a few of the most important points to consider before upgrading to an endless metal belt; the following should help give you an idea of what to expect from the design process.
Define the Application and Conveyor System Requirements
It's important to understand the unique requirements of your application. Typically, customers approach us for a metal belt because they need to:
Solve a problem with their current automated conveyor system.

Develop a new product

Increase manufacturing speed

Improve end product quality
Our engineers will work with you to determine which elements of your manufacturing process are relevant to the end design of your new, endless metal belt conveyor system. They will take into consideration factors such as available space, desired processing speed, special material handling needs, and sanitation requirements of the overall system.
Collaboration with you is a key part of our manufacturing and design process. We make it a priority to keep you informed to ensure the end result is a metal belt conveyor system that meets and exceeds your expectations for performance.
Understand the Unique Capabilities of Stainless Steel Belts
There is a long list of reasons why metal belts are a superior automated conveyor system design option. Metal belts are able to perform in environments that standard metal belts simply cannot. Stainless steel metal belts are more resistant to extreme temperatures and potential damage that may be caused by friction or sharp objects. The unique properties of metal belts make them ideal for use in clean rooms or vacuum environments. They will not transmit particulates and they discharge static electricity, making them an excellent choice for a manufacture of electronics.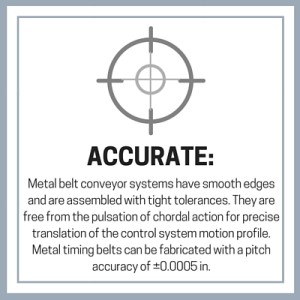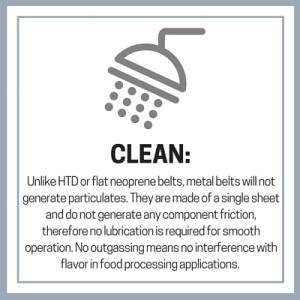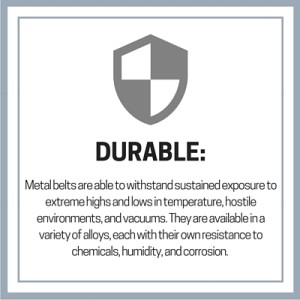 Design Considerations That Will Maximize the Lifespan of Your Belt
You can easily maximize the lifespan of your metal belt conveyor system when the initial design incorporates elements that will prevent unnecessary wear and tear. Metal belts require a certain pulley diameter based on belt thickness; to maximize belt life use the largest possible pulley diameter and keep the ratio between pulley diameter and belt thickness at 625:1 or greater. The number of pulleys included in the system should be kept to a minimum (fig. 1a) and reverse bends (fig. 1b) should be avoided whenever possible.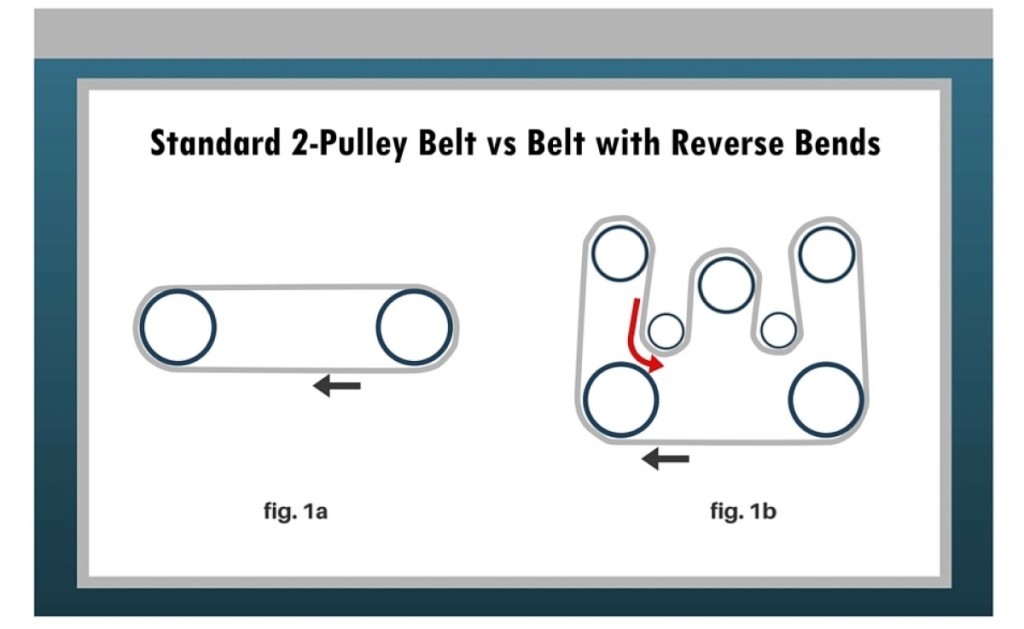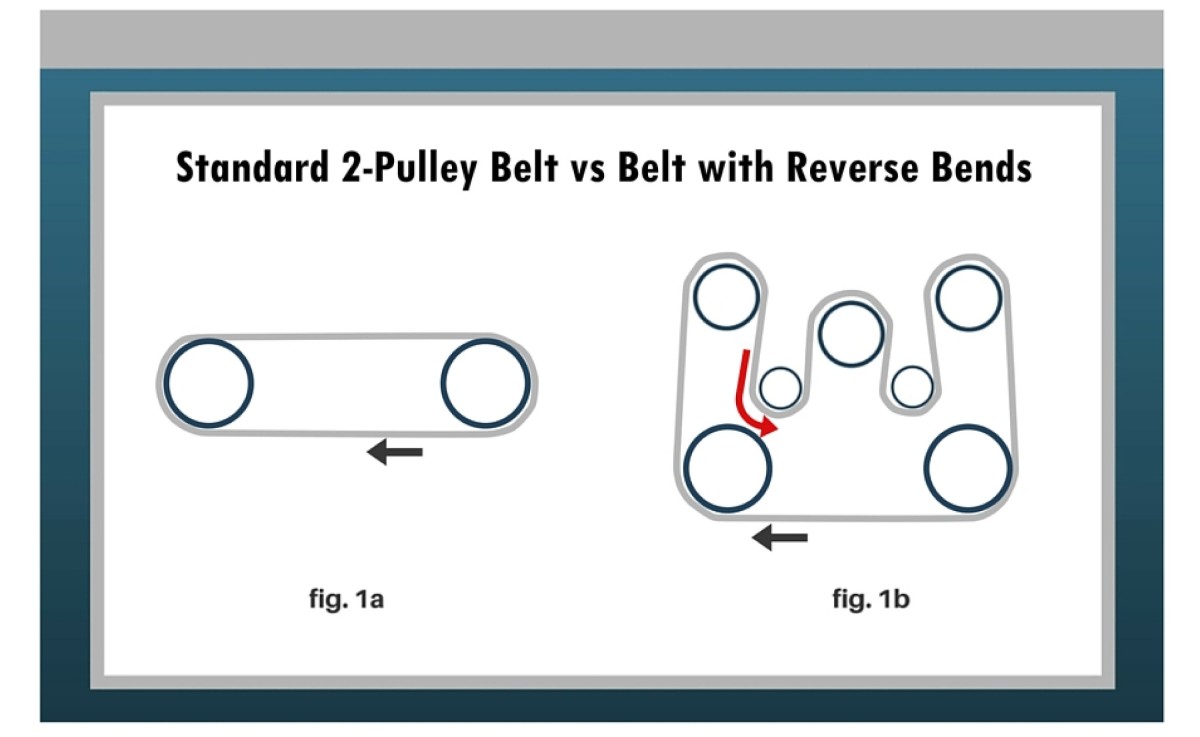 It is also important to apply the proper tension to the belt without over-tensioning or causing the frame to bow. Our engineers can provide you with specific guidelines for the type and style of metal belt you will be using.
Choose the Best Material for Your Automated Manufacturing Application
Our metal belts are made of stainless steel for long-lasting, durable operation. Depending on your system's needs, pulleys may be made from stainless steel, aluminum, or plastic. There is a wide variety of surface coating options available to further specialize your metal belt to suit your specific needs. Some of the available coating options include:
Non-stick TeflonⓇ

GATORCOATⓇ

Urethane or neoprene

Silicone
Belt Technologies, Inc. is able to apply a wide range of additional surface treatments, from fluorocarbon compounds to gold plating and powdered diamond bonding. Perforations can easily be implemented to metal belt designs. Precision perforations are made mechanically or with other non-impact methods for timing, carriage positions, indexing, or vacuum conveying purposes.
Are you interested in learning more about upgrading your current automated conveyor or robotic system to an endless metal belt conveyor system? Download our comprehensive design guide or contact us to get a quote for your project today!
Download the Design Guide