Today is National Frozen Food Day, a time to recognize how advances in food preservation have improved our modern lives. From ice cream to pizza to meat, we understand the importance of food preservation and think it's a perfect time to tout our ongoing work in food processing solutions.
Metal Belts and Food Processing
Stainless steel metal conveyor belts are excellent for cooking, freezing and handling edible products, offering a variety of benefits over belts made out of traditional materials. Metal belts do not require lubrication, meaning that there is no risk of chemicals tainting the food. Additionally, stainless steel is resistant to bacteria, making belts produced from this material easy to clean and in conformance of even the strictest USDA requirements. Due to the nature of stainless steel, there is also no concern of fraying, which can happen with other materials, leading to particulates contaminating food products.
The most important aspect to highlight on National Frozen Food Day is the resistance metal belts have to extreme temperatures. Stainless steel can withstand cooking and freezing processes that food products are frequently subjected to during manufacturing—meaning that facilities using metal belts on their production line can more easily automate their processes and handle the food less throughout them—just adding to hygiene and overall efficiency.
Frozen Food Solutions Offered by Belt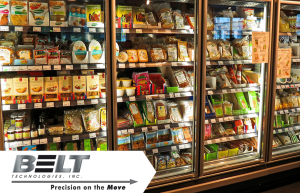 As an example, we helped a customer design a belt that could operate in temperatures as low as -40°F. The customer's setup needed to compress a meat product at high speeds between a freezing drum and the belt. We developed a combined solution that included a solid metal belt and a piano hinge termination to make it easier to clean and load the machine.
In another instance, a company specializing in gourmet butter products was in need of a belt that would operate in temperatures under -150°F. They were originally working with a standard Teflon-coated fabric belt but due to the nature of their product, constant cleaning was a necessity. The traditional belts needed to be replaced every 3–4 weeks due to constant abrasion from the cleaning process. When the facility switched to our stainless steel belts, the time between operational shutdown was increased to 6–12 weeks. The company was so satisfied they also bought a metal belt for a second machine.
How We Can Help with Your Application
Stainless steel belts are the most sanitary and reliable option on the market, perfect for any food application. In honor of National Frozen Food Day, enjoy your favorite frozen meal and contact us to learn how we can help you create a customized food processing solution.