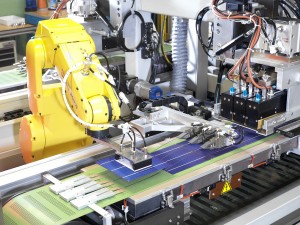 Agawam, MA — June 8, 2011…. Belt Technologies, a leading provider of metal belt and conveyor systems, provides photovoltaic manufacturers a more efficient means of producing solar cells that use the sun's energy to generate electricity. As the world makes significant moves towards sustainability, manufacturers are continually searching for more efficient ways to produce products that take advantage of renewable energy sources.
Belt Technologies' steel belts have provided manufacturers a more effective solution for transporting components through the cell manufacturing process as well as final panel assembly. Used in tabber and stringer operations, the belts provide many benefits not found in alternative belting materials. The belts' robust nature allows them to be perforated and sustain accuracy in high-speed vacuum systems. As a result, cells can be moved precisely to the required welding spot to achieve accuracies of .1mm or less in both the lateral and horizontal planes. Additionally, stainless steel belts from Belt Technologies are able to resist the high temperatures involved in laser soldering bus ribbons during the solar panel assembly process, avoiding the quality-threatening belt degradation commonly seen with plastic and fabric belts. Their longevity under intense heat provides cost savings to manufacturers as a result of fewer belt changes and reduced down time. Abrasion-resistant release coatings prevent solder buildup and provide protection for the various fluxes commonly used in the manufacturing process.
For more information on this and other Belt Technologies products, call 413-786-9922.
Belt Technologies designs and manufactures belt conveyors for wide ranging applications in the automation, electronics, packaging, food processing, medical device, tobacco, and aerospace markets.