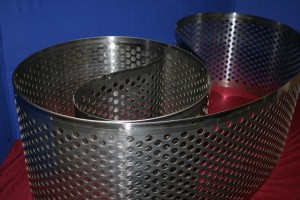 Agawam, MA — April 19, 2011…. Belt Technologies has developed a perforated stainless steel belt that has significantly improved production efficiency for a leading manufacturer of advanced technologies in the separation of liquids, solids, and gases. The belt, used to transport pre-coated blood filter elements through a forced hot air drying chamber, has streamlined the production process and helped Porous Media Corporation of St. Paul, MN achieve machine efficiencies in the 96-98% range.
The belt's large perforations allow for the maximum amount of airflow through an upper and lower belt, resulting in complete drying of the liquid coating solution. Its seamless non-stretch surface eliminates the threat of particulate debris being introduced into the manufacturing environment, while allowing for a complete "clean and place" process, which cannot be done effectively with other belting materials. A cycled belt cleaning operation can be performed simultaneously with the production of the filters, eliminating the need for stoppages and resulting in machine efficiencies in the upper 90% range. The product's non-stretch properties result in better positioning and increased accuracy.
For more information on this and other Belt Technologies products, call 413-786-9922.
Belt Technologies designs and manufactures belt conveyors for wide ranging applications in the automation, electronics, packaging, food processing, medical device, tobacco, and aerospace markets.