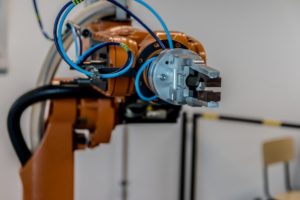 April 4–12 is National Robotics Week (RoboWeek), recognizing robotics technology's emerging importance in American innovation and a wide range of applications. Those fields include transportation, medical, manufacturing, food processing, national defense and security. Increasingly, robotics is enabling students of all ages to learn important science, technology, engineering and math (STEM) concepts and inspiring them to pursue careers in STEM fields.
Robotics technology and automation systems have made significant advances in such fields by providing highly accurate and repeatable motions. During National Robotics Week, we're proud of the part we play in robotics technology. Our stainless steel drive tapes, made from the same superior materials of our endless metal belts, are used every day in applications where repeatable and highly accurate motion profiles are required.
The features of the stainless steel construction surpass those of other belt materials:
Virtually non-stretchable
High resistance to extreme temperatures
Vacuum compatible
Cleanroom compatibility
No lubrication necessary
A particulate-free environment
High strength-to-weight ratio
Accurate and repeatable
Meeting a High-Stakes Demand on Deadline
Our stainless steel drive tapes were the ideal choice for the robotics applications used by a recent customer, a manufacturer of small semiconductor devices. They required a high degree of precision and repeatable accuracy while performing in a sterile, vacuum environment. Metal drive tapes perform with near-zero backlash, optimizing positioning accuracy. Stainless steel is clean and durable, able to withstand unique operating conditions including extreme temperatures, cleanroom and vacuum environments. With a quick turnaround on our drive belt solution, we helped our customer meet their original production schedule.
To deliver the precision expected of robotics technology, customers like these rely upon the superior quality of our stainless steel drive tapes and metal belts. During National Robotics Week (and every week), we salute the professionals who are innovating with robotics, and those who are just now getting a glimpse at what a future in STEM offers.
If your business is innovating with robotics technology, our customized stainless steel drive tapes and timing belts can meet your application demands. Contact us and let us know what we can solve for you today.