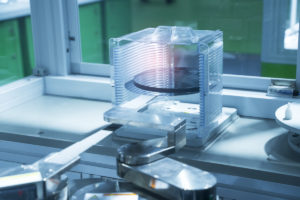 Recently, a longstanding customer of Belt Technologies approached us with a seemingly simple project. They needed replacement drive tapes for an existing robotic device. The customer specializes in developing and manufacturing advanced equipment used in the production of semiconductor wafers, which requires a high degree of precision and repeatable accuracy. Additionally, the desired lead time for the order was very short and did not leave much room for error. 
Metal Drive Tapes are Ideal for Robotic Equipment and Cleanroom Applications
The successful production of small semiconductor devices requires sophisticated fabrication equipment capable of repeating a core set of processes that can include hundreds of complicated individual steps. This particular customer produces a range of devices designed to perform high-level processes such as dielectric etching, atomic layer etching, vapor deposition, plasma beveling, electrochemical deposition and more.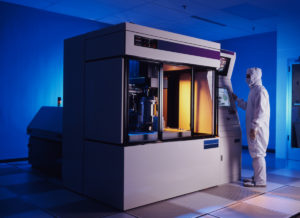 For this project, the customer required a set of replacement metal drive tapes for existing robotic equipment. Stainless steel drive tapes by Belt Technologies are an ideal choice for robotics applications, particularly those that require a high degree of precision and repeatable accuracy. Metal drive tapes are able to perform with near-zero backlash which optimizes positioning accuracy and robotic movement for the maximum lifespan of the device. They can also be customized for optimal performance in any application.  
For this particular application, the drive tapes would need to be able to operate effectively in a sterile, vacuum environment to prevent contamination of the delicate electronics being manufactured. Stainless steel is durable and clean, able to meet the demands of many extreme operating conditions including high or low temperatures, vacuums, and cleanroom environments. The customer has worked with Belt Technologies for many years because our metal drive tapes fulfill the requirements for the smooth operation of their chipmaking equipment. 
Quick Turnaround on New and Replacement Parts
Our team was able to provide the customer with the replacement drive tapes made from 301HY stainless steel. The customer was satisfied with the quality of the parts and, since Belt Technologies was able to fulfill the order well within the required delivery date, they were able to proceed with their original production schedule. 
For more information about stainless steel belts and drive tapes for robotics applications, contact Belt Technologies today.