A customer recently approached Belt Technologies seeking a solution to their product handling challenge. The customer produces electrical components including sensors, fiber optics, power systems, cable assemblies, and electrical connectors. They were working on expanding their electrical connector manufacturing operations and required a precise and repeatable way to safely transport the small components.
Stainless Steel Is Ideal for the Unique Challenges of Electronics Manufacturing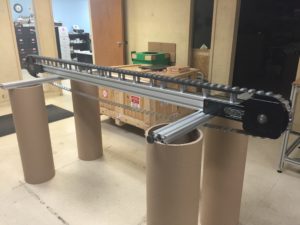 Many electrical components are manufactured in static-free, vacuum environments designed to protect delicate circuitry from potential contamination. Stainless steel is the ideal conveyor belt material for these applications because it does not require lubrication and does not generate particulates.
This particular application did not have such stringent environmental operating requirements. However, the system needed to be incredibly precise. The product needed to be positioned accurately throughout the manufacturing process to be properly aligned with specialized sensors; the sensors would help assemble the electrical connectors. This made indexing and precision a top priority in the conveyor system design.
Custom Attachments Guarantee Safe and Precise Product Handling
Our engineers worked closely with the customer's engineering department. They thoroughly reviewed the client's initial drawings and functional models and translated them into working equipment. The project began with motors and nesting provided by the customer. Our team worked with the customer's engineers to design an appropriate frame and conveyor belt made of sturdy, 301 FH stainless steel that would function as intended with the provided components. The belt was fitted with custom attachments to ensure precise positioning of the electrical connector components as they are transported. The new conveyor system was assembled and installed without incident and has been performing exceptionally well. Watch the video below to see the new conveyor systems in action:
Belt Technologies engineers have the ability to work with you to provide manufacturing feedback and design input that will ensure your conveyor system provides optimal product throughput and quality. We have the knowledge and skill to create custom conveyor systems perfectly designed to suit your unique automation application. Contact the experts at Belt Technologies today to learn more.