Custom Conveyor Belt Attachments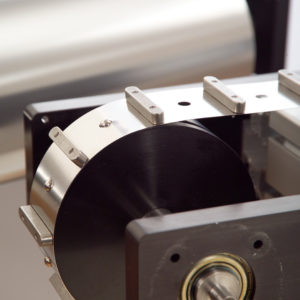 Belt Technologies has the ability to produce stainless steel conveyor belts with custom attachments for your automation application. Custom attachments are an effective way to ensure positional accuracy, secure product handling, and proper product indexing in automation systems where reliable, repeatable results are a priority.
Metal Belts with Attachments Achieve Reliable Positional Accuracy and Repeatability
Stainless steel belts and drive tapes can be fitted with precision-machined, cast, or molded attachments to provide unsurpassed positional accuracy and repeatability. Attachments are a design element that are frequently used to secure product transport or to control specific stages of a manufacturing process. Standard and custom attachment shape profiles can be added for sorting, separation, feeding, and/or the actuation of products. More complex attachments can be added to a belt surface to mount mechanical components or clamp-on mechanisms. Conveyor belt attachments and accessory applications include:
Precision position indexing for automated assembly

Lead frame drives

Timed transfer lines

Packaging systems

Timed parts nesting

Component orientation and conveying

Automated dimensional/electrical inspection

High-speed packaging

Cutting
Stainless steel belts can be fitted with custom attachments, which—in combination with other performance-optimizing features such as precision perforations, surface coatings, and timing elements—will fulfill the needs of your unique application. Custom attachments are securely welded, riveted, or threaded to the belt based on customer specifications. Customers have the option of providing their own, pre-made attachments or Belt Technologies can produce the attachments in-house. Although our metal conveyor belts are strictly made of stainless steel, attachments can be produced in a variety of materials, including metal and plastic.
Automation Solutions from the Metal Conveyor Belt Experts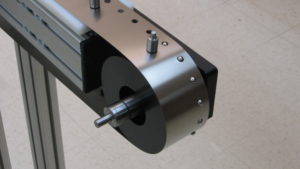 Belt Technologies has provided customers in a variety of industries with custom metal conveyor belts featuring specialized attachments designed to optimize system performance. For example, our engineers designed and fitted custom attachments onto a metal conveyor belt for a vapor deposition process within a high vacuum to ensure the product would be transported safely and would not slip on the belt. In another case, Belt Technologies designed and built a custom stainless steel conveyor system for packaging system manufacturer with unique carrier attachments for the transportation of zip-tie bundles.
Our team is trained to ensure all system conditions and product requirements are considered. For example, if a metal belt will be exposed to extremely high temperatures, it is crucial that the materials, attachments, and surface treatments are able to withstand those conditions.
The experts at Belt Technologies have the knowledge and experience to provide you with design support and material suggestions to guarantee optimal performance and product handling. For more information about custom conveyor belt attachments, contact us today.
Want to learn more about custom conveyor belt attachments?