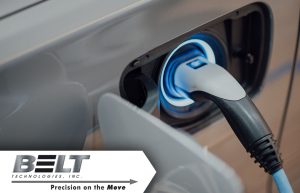 As the effects of climate change continue to impact the world in increasingly negative ways, people across the United States have decided to take the initiative to lower their personal carbon footprint into their own hands. In fact, according to the U.S. Department of Energy, sales of light-duty plug-in electric vehicles (EVs), which include full EVs and plug-in hybrid electric vehicles (PHEVs), nearly doubled between 2020 and 2021—with EV sales specifically growing by 85 percent. At Belt Technologies, we provide a crucial service to vehicle battery manufacturers as their demands shift from lead-acid to lithium-ion by providing PureSteel® stainless steel belts and conveyor systems for battery production. Read on to learn more about how metal belts can be used in the production of the batteries that give EVs the power to transport us from point A to point B.
Stainless Steel Belts and Battery Production
The unique properties and benefits of stainless steel have long made metal belts ideal for automated battery production equipment. Stainless steel belts and conveyor systems are used in the automated production of lead-acid batteries typically found in gas-powered vehicles.
Battery components must be transported smoothly and reliably through several production stages, including pasting, filling, assembly, cleaning and pin engraving. Advanced lithium ion batteries require even greater precision to move the materials through unique automated production steps, including having two belts working precisely in tandem. Unlike rubber or neoprene alternatives, metal belts provide positional accuracy, smooth motion control and, most importantly, chemical resistance. Battery manufacturers have also trusted stainless steel belts to operate in clean-room environments and resist chemical corrosion for a more reliable, longer-lasting conveyor system.
Stainless steel belts like those produced by Belt Technologies are also the gold standard for the production of lithium-ion batteries, which are used in most EVs. As more states like Massachusetts and California implement plans to solely produce EVs by 2035, manufacturers are working overtime to meet the demands of both traditional and electric battery customers. Major production changes are on the horizon for many battery manufacturers, and Belt Technologies can help by designing and building custom solutions for any existing system.
Transform Your Facility's Battery Production
If your vehicle battery manufacturing business is looking to capitalize on the growing need for EV batteries, our team is ready to help you meet those demands. In addition to the battery industry, Belt Technologies' metal belts and conveyor systems are used in 3D printing, robotics, medical manufacturing, food production and much more. Reach out to us online to get started.