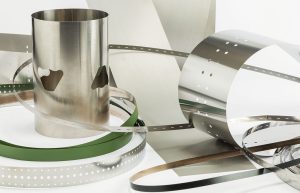 Are you looking for the right conveyor belt to meet the specific needs of your facility's production? Look no further: in this blog, we'll help you find the right belt for the job and explain why our PureSteel® metal belts provide all the necessary benefits to overcome your manufacturing challenges. Whether you use our drive tapes, timing belts or conveyor belts, our custom products and solutions will help to solve a wide range of automated manufacturing needs.
Meeting Your Needs
What matters most to you? Accuracy? Durability? Cleanroom compatibility? Choosing the solution that's right for you isn't always easy, so we're outlining the specific strengths associated with some of our most popular products.
Endless belts: Our PureSteel® endless metal belts are created by welding together two ends of a metal strip, providing the same strength and versatility you can expect from all of our products. They meet strict sanitary requirements for food processing and pharmaceutical industries.
Perforated belts: Careful and exact placement of perforations, which drive the belt, ensures the precise and accurate positioning of products on its surface. Perforated belts are frequently used in vacuum conveying or for any industry in need of secure transportation, including solar panel production, medical device manufacturing, electronics manufacturing and more.
Timing belts and drive tapes: Designed to function with specialized timing pulleys to guarantee precise and cyclical transport of products. The perforations in these belts are created with a focus on timing elements and not motion generation, making them essential for carriage positioning, indexing and achieving accurate and repeatable results.
Multilayered drive tapes: Ideal for when strength and durability are necessary, but space is a concern. Multilayered drive tapes consist of multiple, stacked bands to increase belt strength while reducing pulley diameter, creating a perfect solution for heavy loads.
Friction drive belts: Belt motion is achieved from tension around two or more pulleys that drive the belt forward. Friction belts are the simplest, lowest cost solution in applications requiring relatively lower precision such as conveying, heat sealing, casting and imaging.
Other Materials Can't Keep Up
No matter which of our solutions fits your specific production, our PureSteel® metal belts are way ahead of the competition. Unlike polyester, nylon or cotton belts with rubber or plastic covers, metal belts can withstand temperature extremes, vacuum conditions and caustic environments. They are not susceptible to stretching or warping and provide durability while maintaining lightweight flexibility for smooth, continuous operation. Additionally, metal belts do not require lubrication and do not generate particulates, making them cleanroom compatible and ideal for food and pharmaceutical processing.
Our engineers will work with you to find the right belt for the job and will create a custom solution tailored to your facility. Contact us to learn more.