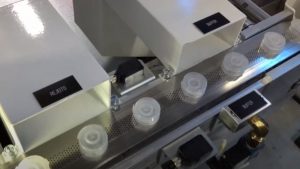 When working in specialized environments, with unique machinery like high precision vacuum conveyors, or with specialized or even hazardous materials, it is exceedingly important to take every aspect of the task at hand into consideration during the design process. This early planning, in addition to ensuring the safety of your workers, sets the project up for a successful project outcome.
This same principle is advised across industries that require precision work and applications with high- and low-temperature zones, like the manufacture of micro polymer components, solar cells or other highly engineered products.
For this wide range of industries and applications, there is one solution that will serve them all well is steel belt technology.
Steel Belts: One of Your Top Solutions (and maybe even your only one)
Steel belts require no lubrication, are easy to clean, and can withstand hazardous temperatures of over 538 C and various chemical substances. In addition, they offer great thermal and electrical conductivity, all while providing an outstanding strength-to-weight ratio. Belt Technologies, with over six decades of experience serving customers globally in countless industries, can help to outfit your conveyor system.
Here are some product considerations:
Temperature:
High and low temperatures can influence the properties of a steel belt, and therefore, it is important the right material is selected to achieve optimal operation and lifetime. Our engineers will recommend a suitable alloy to meet your needs from our robust metal offerings.
Adjustments:
Sometimes a specific application requires adjustments to create the perfect product. If high precision is needed, a vacuum system might help reach the desired outcome. Vacuum applied beneath the steel belt surface creates an ideal flat surface to hold a multitude of products that can be precisely positioned along the conveyor's path for printing, cutting, and pick and place operations.
A Case Study: Real-World Results
One of our OEMs required that two specific areas in his 32-foot-long (9.75m) vacuum conveyor achieve a crucial, repeatable belt positioning of max. 0.004" (0.1 mm) lateral and longitudinal while holding a flatness of just 0.0010" (.025mm) or better. This was necessary because the print had to be stacked at exactly the same position when the belt circled back to the printing station with the product still attached. Especially for micro polymer components, the stacking of the print levels has to be perfect to achieve good performance of the components. In this case, it is critical to get camber, or straightness of the belt, close to 0, which can be achieved through Belt Technologies' production processes.
Due to the heat zone followed by the cooling zone in this application, there was a risk of the belt stretching and pulling itself back together within a short period of time, potentially causing positioning issues. To overcome this, we introduced forced tracking with side guides covering just the short distances of the two high precision printing areas.  This served to keep the belt in a perfect position where it counted while minimizing abrasion of the belt edges and avoiding waves in the belt itself.
Precision on the Move
Where possible, we recommend that side guides and support plates be made from low friction material like POM/Delrin. Where temperature forbids the use of such materials, we recommend stainless steel, but only in areas where absolutely necessary to avoid high abrasion of the belt. For specialty projects like these, it is an advantage and privilege for Belt Technologies to be on board right from the start to help make key decisions in the design process.
If you have any questions or are ready to start designing a future production line, we invite you to reach out to one of our sales engineers. Contact us to learn more about how we can put our custom solutions to work for you. We'll work hard to ensure your project's success.