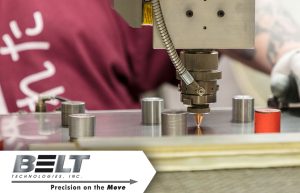 The most noteworthy inventions throughout history provide a simple solution to a problem or an indispensable benefit to the user. Think Johannes Gutenberg and the printing press or Alexander Graham Bell and the telephone. At Belt Technologies, every PureSteel® metal belt we create is custom-made to the specific needs of the customer and their applications in order to help them complete important tasks. In celebration of National Inventors Month this May, we're examining how everything we manufacture is custom, from the metal alloys we use to coatings, attachments and perforation patterns.
Custom-Made Results
If you're concerned that our "custom" endless metal belt manufacturing services mean high prices and long lead times, worry not. We have perfected the engineering of our PureSteel® metal belts so we can provide custom and unique belt width and thickness combinations in a timely and cost-effective manner.
Our belts are typically made of stainless steel, with a wide variety of specific alloys available to best fit requirements, and are durable, clean and accurate. We manufacture these belts in widths from 0.040" up to 35" wide and thicknesses of 0.001" up to 0.035" thick and can manufacture a specific width and thickness combination based on the requirements of a customer's application.
Our belts can be further customized with unique coatings, attachments, and perforation patterns. In fact, we have the advanced manufacturing technology to allow for up to 100,000 custom perforations to be designed in a single belt. Our array of belt coatings, textures and surface treatments can help improve lubricity and increase friction, among other benefits. The custom attachments we offer for our stainless steel metal belts also help to ensure positional accuracy, secure product handling and proper product indexing in automation systems where reliable, repeatable results are a priority. Finally, we also offer pulleys and other components of a complete conveying system to provide a turnkey solution, placing more of the engineering burden on our staff.
We approach every single one of our custom projects like we're inventing something brand new, as we manufacture around customers' specific needs no matter how unique they may be. Nothing exemplifies this better than how stainless steel metal belts and conveyor systems have been utilized in many different applications, such as in industrial automation, food processing and the medical industry.
If you are interested in learning more about how our custom stainless steel metal belts can benefit your application, contact us today.