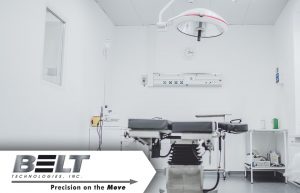 Over the past year and a half, we have all witnessed incredible work by those in the medical field to keep us safe during the COVID-19 pandemic, and more recently during the resurgence of the virus with the Delta Variant. During Environmental Services Week, from September 12–18, we would like to recognize the professionals on the front lines who don't usually receive their due: environmental service (EVS) technicians.
As a company that supports the medical industry with our PureSteel® stainless steel belts that operate in cleanroom environments, we want to take the time to acknowledge the critical efforts of EVS professionals while highlighting our supporting role.
What is an Environmental Service Professional?
EVS technicians are responsible for establishing and maintaining healthcare environments that are free of surface contamination and support safety, service and effective operations. They provide the necessary medical cleaning and disinfecting measures needed to keep every person in a given hospital or health care facility safe—and are the first defense against infection control. Without this work, doctors, surgeons, nurses and others wouldn't be able to safely perform their critically important functions.
Stainless Steel Belts for the Medical and Pharmaceutical Industries
At Belt Technologies, we provide a similar service behind the scenes—creating PureSteel® stainless steel belts to carry medical and pharmaceutical equipment. Conveyor belts are an essential part of medical and pharmaceutical processing, so keeping them clean is a top priority. Our stainless steel belts have become a preferred choice, as they do not require lubrication and do not outgas, eliminating the risk of contamination. They also do not fray or generate particulates, like other belt materials, making them essential in cleanroom situations.
Our stainless steel conveyor systems are designed for easy access, providing savings in both facility maintenance and cleaning labor. Additionally, we can custom design and build them with your application in mind. If you are seeking a clean, customized conveyor system for your pharmaceutical or medical equipment processing needs, contact the experts at Belt Technologies today.
And remember, especially this week, if you know any EVS professionals,  thank them for their work behind the scenes—none of the amazing progress during this pandemic would have been possible without them.