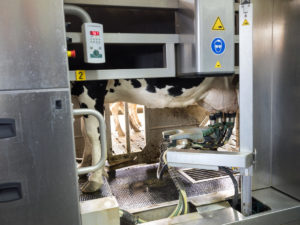 At Belt Technologies, we specialize in providing expert solutions for unique industry applications. Recently, we were approached by an OEM producing automated robotic equipment for the dairy industry. The client came to the metal belt experts to troubleshoot an issue they were having with the metal bands in their robotic milking arms. 
Stainless Steel Timing Belts, Drive Tapes & Attachments for Robotics Applications
There are many benefits to choosing stainless steel timing belts and drive tapes for robotics applications. They have a high strength-to-weight ratio, are virtually non-stretchable, do not require lubrication, and can operate with near zero backlash for maximum, repeatable accuracy. Belt Technologies has produced metal drive tapes for numerous robotics applications including medical and pharmaceutical applications, packaging, industrial automation, and robotic arm actuators. 
All of our metal drive tapes and timing belts are fabricated using the same high-quality stainless steel materials as our endless metal conveyor belts. Drive tapes and timing belts can also be specialized as required with custom perforation patterns, locating pins, end tabs, and attachments. They are ideal for maintaining positional accuracy throughout the operational lifespan of your equipment.
Engineering & Design Service Support
The customer's equipment included a robotic arm that was approximately 3ft long with 18in joints which controlled milking attachments designed to gently connect to the cow's udders using a visually guided system. The attachments milked the cow and sent the dairy product through a processing system where it would be tested to affirm the health of the animals and assess the quality before moving on to pasteurization. 
The automated milking system was designed to support a large industrial dairy farm that could hold up to 1,200 cows or more. It would need to be highly durable as well as accurate in order to sustain operations at that scale. Unfortunately, a metal band component that moved the arm of the machine was experiencing a high rate of failure due to poor attachment points and high torque. Belt Technologies was able to provide the client with engineering & design services to redesign the assembly to remove high bending loads and perform a stress optimization analysis to reduce overall stresses to extend belt life.
For more information about metal drive tapes and timing belts for robotics applications, contact the experts at Belt Technologies today.