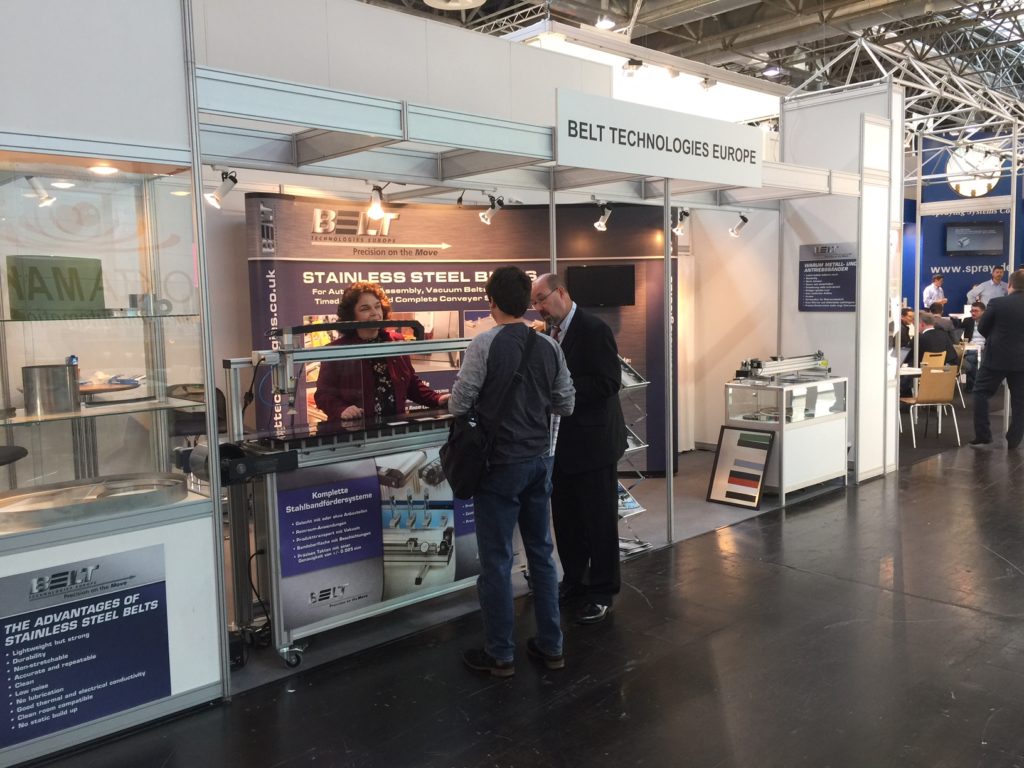 AGAWAM, MA, May 2017—Belt Technologies recently attended Interpack 2017, which took place in Düsseldorf, Germany. The annual event is an opportunity for companies in the packaging industry and other related sectors to meet, exhibit innovative equipment and technologies, and make important business connections.
"Interpack is one of the most important trade shows of its kind in the world," said Ivan Amaya, Sales and Marketing Manager | Americas at Belt Technologies. "Attending as an exhibitor allowed Belt Technologies to meet more than 200 visitors from over 20 countries to discuss the unique properties and capabilities of our metal belts and conveyor systems."
This year's Interpack event showcased several up-and-coming innovations for the packaging industry. Popular developments focused on digital workflows, modular system design, and increasing efficiency in packaging materials and processes. Stainless steel conveyor belt systems by Belt Technologies are a great match for these trends. They are able to build custom, modular conveyor systems to suit virtually any workflow; their metal belts are more durable and longer-lasting than many rubber or fabric conveyors, resulting in reduced waste, better product quality, and higher product throughput.
Attendance this year broke the Interpack record, with 170,500 individual attendees representing over 2,800 companies from 168 different countries. Attending Interpack, which connects so many industry leaders and innovators, is a critical part of staying on the cutting edge of packaging technologies and trends. Exhibiting at a major trade show like Interpack gives Belt Technologies' packaging automation experts the chance to engage with customers who would benefit from the superior design of stainless steel conveyor systems.