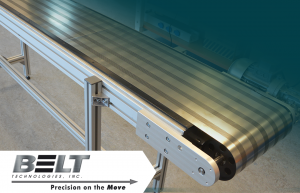 The new year is finally here, have you made a New Year's resolution yet? We're not talking about slimming down or getting to the gym, we're talking about your business. It's the perfect time to improve your productivity in 2021, and our line of stainless steel belts, conveyors and pulleys can help you achieve that goal.
Identify the Issues
More productive equipment means more profit, so it's important to identify any issues you may want to make as soon as possible. Some common improvements include:
Using equipment you can trust
Reducing cleaning/maintenance time
Trimming your "waste"
Switching to our stainless steel products is a solution that can help you fix all these issues—they're more durable, more precise, and more sanitary than other options.
How Will Our Stainless Steel Belts Help?
Durable: Belt Technologies, Inc. has been producing metal conveyor belts, timing belts, and pulleys for more than five decades. We provide equipment with a proven track record of durability. Metal belts:
Can withstand extreme temperatures
Resist chemicals, humidity and corrosion
Require no lubrication which reduces maintenance
Precise: Metal belts are virtually nonstretchable when compared to other belt types. Because of this, they are ideal for situations of precision positioning.
Sanitary: Unlike flat neoprene belts, metal belts don't release particles into the air, making them optimal for food and pharmaceutical processing. They cut out the "waste" released into the air, and unlike neoprene belts, they can be sterilized in an autoclave.
Now is the Best Time to Upgrade
Our metal belts have been trusted in a wide variety of industries for more than 50 years, including:
It doesn't matter what field you're in, the new year is the perfect time to consider upgrading your systems to improve your productivity in 2021. Contact the experts at Belt Technologies for more information on how we can help.