High-Precision Welding for Stainless Steel Conveyor Belts
Endless metal conveyor belts by Belt Technologies, Inc. are made from single sheets of high-quality stainless steel. To create a smooth, endless belt, our engineers utilize a proprietary laser welding and finishing technique. Our welds are high-strength and are able to withstand rigorous extremes in temperature, mechanical impact, and vacuum without warping or breaking. Endless steel conveyor belts are used for virtually any application imaginable, in fields as diverse as aerospace, robotics, food, medical, automation, semiconductors, and more. Endless belts typically range in thickness from 0.002" (0.051mm) to 0.032+" (0.8mm).
Our Proprietary Welding Method Creates a Strong, Smooth Weld
Stainless steel conveyor belts have unique traits that give them the perfect blend of precision, strength, and versatility. They have a high strength-to-weight ratio, a high resistance to temperature variation, and a high resistance to abrasion and corrosion. To create an endless conveyor belt, the weld connecting the two ends of the stainless steel sheet must be highly resilient as well as perfectly smooth.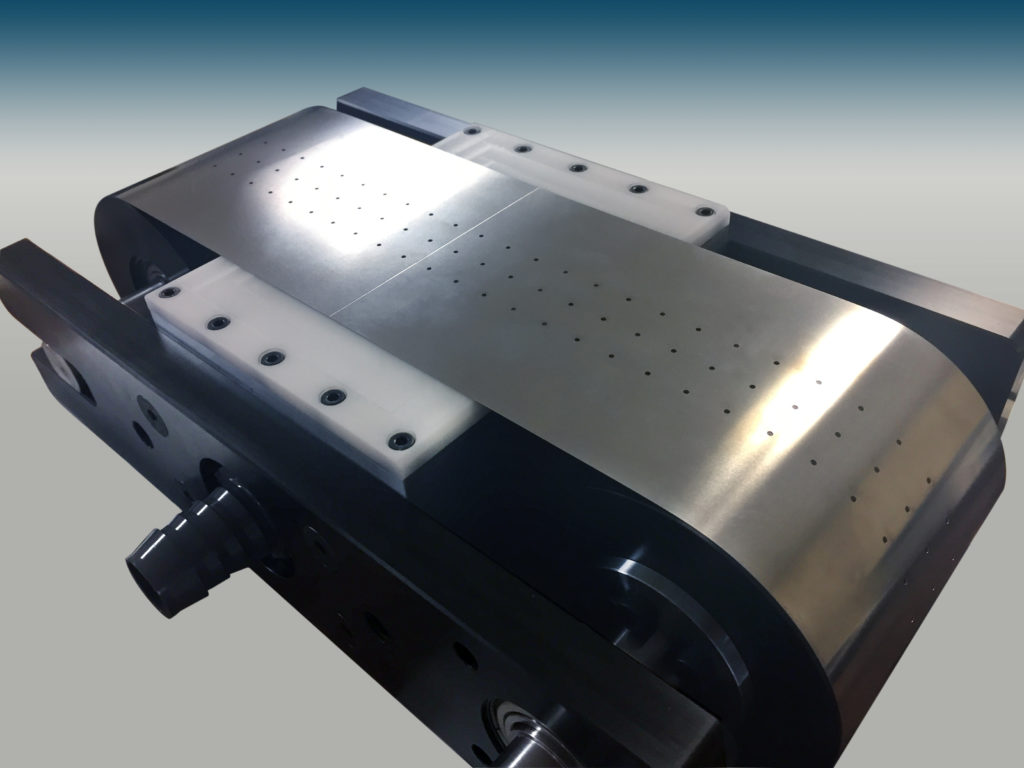 At Belt Technologies, Inc., we utilize a proprietary laser welding method to create strong, reliable welds. Our welders are specially trained in welding sheets of stainless steel to create a smooth, endless conveyor belt. Weld-finishing techniques are applied to the joint for better blending, creating an even surface for optimal product handling.
A Smooth Conveyor Belt Surface is Ideal for Impressionable Products
Our solid metal conveyor belts are guaranteed to have flat, even surfaces, which are ideal for applications that need smooth product finishes. The continuous surfaces of our metal conveyor belts ensure that there are no impressions or unsightly markings left on impressionable products such as foods or extruded plastics. They are also ideal for applications that require a high level of precision, such as printing.
Specialty surface coatings such as Teflon or our proprietary GATORCOAT® can be added to enhance the release characteristics of the belt, further minimizing any opportunities for product damage.
For the highest level of quality and precision in automated conveyor belt manufacturing, contact the experts at Belt Technologies, Inc. today.
What can metal belts do for your automation system?